Small Succulent Pots: Top Picks for 2023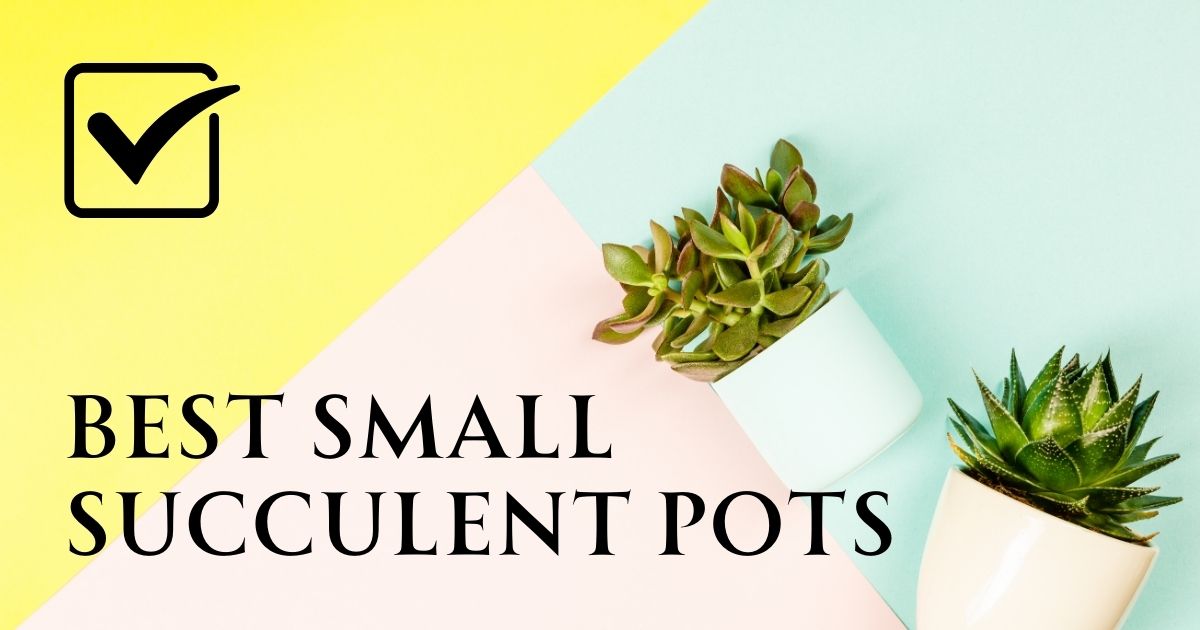 Small succulent pots are great way to enjoy the beauty and low-maintenance nature of these charming plants. Succulents thrive in tiny pots, unlike many other plants. Since you're always getting new pups from your existing succulents, you'll always have a need for tiny pots.
Succulents are incredibly versatile, coming in a wide range of shapes, sizes, and colors, making them ideal for brightening up any indoor or outdoor space. They're also known for being hardy, drought-tolerant, and easy to care for, making them perfect for both experienced gardeners and novices alike.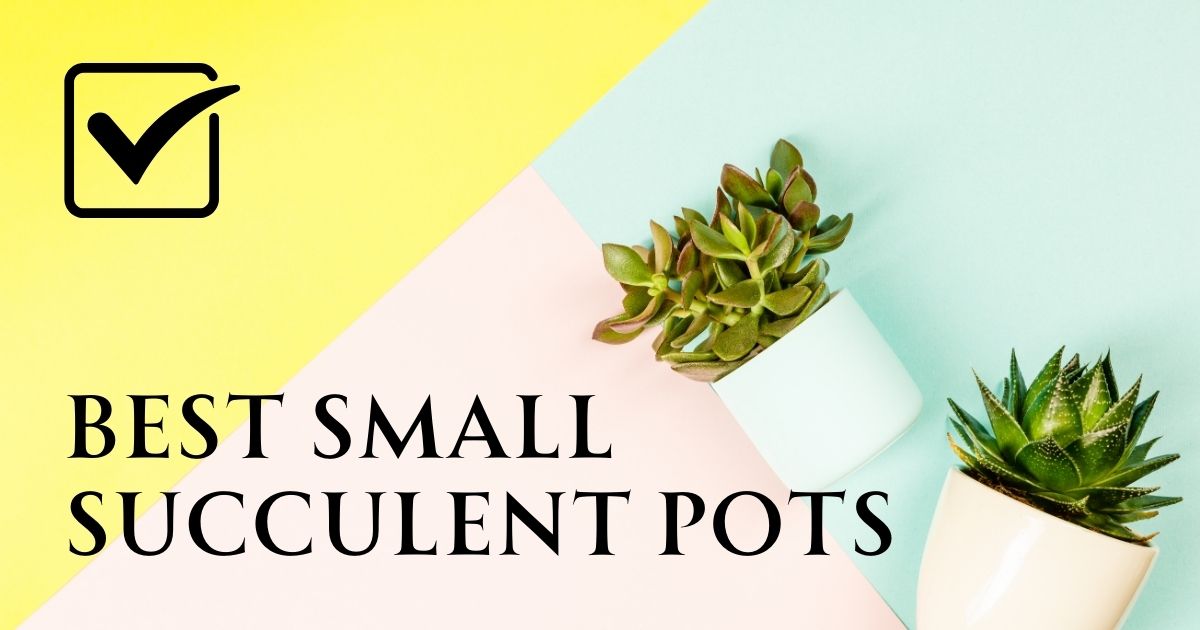 Ready to find the perfect pot for your tiny succulent plants?
One of the reasons small succulent pots have become so popular is their ability to subtly enhance the aesthetics of any environment. These pots come in various materials, designs and sizes. The right pot can significantly impact the look and well-being of your succulents.
Choosing the right small succulent pot is crucial for providing your plants with proper drainage, sufficient room for growth, and the right level of airflow for optimal health.
Succulents prefer their roots to be cozy, so you only want to repot a few inches bigger than the existing root ball.
When assessing the ideal small succulent pot, some critical factors to consider are:
material
size
drainage capabilities
design
The pot's material can affect factors such as temperature, air flow, and the overall health of the roots. Proper drainage is essential for preventing root rot and maintaining a healthy environment for your succulents.
A Note on Ceramic
Most of these succulent pots are ceramic because, well, it's versatile and beautiful. While succulents do better in pots that allow better air flow, since these pots are so small with so much surface area compared to container walls, succulents do just fine in tiny ceramic pots. If you can, look for pots that are glazed only on the outside.
Small Saucers
So many pots on the market, and on our list, have saucers too small to catch extra moisture when you water your succulents. Saucers that are big enough just aren't as cute, and they'll need to be emptied anyways.
Therefore, we recommend you do what we do: water your succulents somewhere else, then put them back on their saucers when they've mostly finished dripping.
Best Small Succulent Pots
I've tried out my fair share of succulent pots. I did some additional research, and here are our top recommendations to help you find the perfect pot for your succulents.
These Popvip succulent pots are perfect for adding humor and style to your indoor plant collection.
Pros
Unique and funny design that works with just about any color scheme
Ceramic won't get hard water stains like terra cotta
Easy to care for, just wipe off smudges.
Cons
Inside is glazed ceramic as well, reducing air flow
The saucer allows almost no room for run-off water, so you'll likely need to water your succulents elsewhere
These Popvip Succulent Pots are a charming addition to any plant lover's collection. The ceramic pots have a unique and funny design, with quirky slogans that add a touch of humor to your home or office.
The build quality of these pots is impressive, with premium ceramic and bamboo materials used for the pot and tray, respectively. This not only makes them strong and durable but also eco-friendly. We appreciated the PE foam packaging that kept the pots safe during transit, making sure they arrived in perfect condition.
One downside of these pots is that the ceramic glaze is on the inside as well as out. This means soil dries even slower in these than other ceramic pots on this list.
Overall, we enjoyed using these Popvip Succulent Pots and think they would make a fantastic gift for a certain green-thumbed friends.
These beautiful ceramic pots are perfect for anyone looking to decorate their space with small succulents.
Pros
Attractive, colorful transmutation glaze makes each of these succulent planters into a piece of artwork
Efficient drainage hole, especially on the pots with little feet
Comes in a set of six with varying shapes and designs that compliment one another
Glaze isn't inside and doesn't cover the entire pot for some of them, so these are a little better than some other ceramic pots.
Cons
The inconsistency in glaze patterns means some individual pots are more attractive than others, and yours might not look like the one in the picture
Bamboo trays hold very little water, so you'll have to be very precise or water your succulents elsewhere to make sure they get enough water.
The Brajttt 2.5 Inch Ceramic Succulent Planter Pot with Drainage set is an excellent choice for adding some mini greenery to your space. Made from high-quality clay, these small containers have a unique transmutation glaze that adds a touch of color and personality to any room. The color is especially pretty in the partial sun that succulents love.
Each set comes with six pots. They all have slightly different shapes and designs, which adds an element of visual interest. Due to the glazing process, there may be some minor inconsistencies in the patterns. However, we believe this adds to their charm and uniqueness.
The Brajttt Ceramic Succulent Planter Pot set is an adorable and practical choice for displaying mini succulent plants. They make an excellent gift choice or a personal treat for upgrading your indoor garden as long as you have a plan for watering them effectively.
These charming, simple, and modern white ceramic succulent pots are ideal if you want to plant succulents in such a way as to draw attention to the plant, not the pot.
Pros
Comes with a cute bamboo tray to catch drips
Clean, round planter design puts attention squarely on the plants
Decent price for six pots
Cons
The bamboo tray might not prevent all moisture from seeping through
Susceptible to chips and cracks if mishandled
Glazed inside and out, so less air flow
You'll likely need to water your succulents somewhere else, since the tray can't catch much water.
The ZOUTOG Succulent Pots are ideal for small succulents and plants, adding a fresh look to your home or office with the focus squarely on your succulent plants.
The planter's round, contemporary design seamlessly blends into various surroundings, such as coffee tables, offices, or dorm rooms.
The bamboo tray may not be able to fully protect surfaces from moisture, and they are too small to catch water after the thorough watering that succulents need.
Handle these ceramic pots with care, as they can be prone to chips and cracks if dropped. Since they're fully glazed inside nad out, they may offer less air flow than other options.
Overall, the ZOUTOG Succulent Pots are a fantastic addition to a home or office space if you want to keep the focus on the plants.
These small succulent pots have a quirky shape that works great for highligting succulents.
Pros
Cool triangular shape highlights the look of your small potted succulents.
Simple bamboo tray included for catching drips
Comes in a pack of 12, great for synchronized decor for all of your succulent planters
Cons
Slightly larger than expected for some users
Inconsistent amount of bamboo trays in some cases
The trays aren't big enough to catch overflow water
These pots have an unusual triangular shape that we love.Their simple and elegant design makes them ideal for fitting in with any modern home décor.
The affordable pack includes 12 identical pots and trays, enough to hold a significant succulent collection. We like the look of mixing them with other pots for a consistent but playful look.
The pots are slightly larger than expected, based on the product description. Additionally, we found that a few customers complained about receiving incomplete sets: either missing bamboo trays or the number of pots being short of the advertised 12. Be careful not to over water, since they're glazed in and out.
Brajttt Small Succulent Pots are an affordable and attractive option for displaying a variety of small succulents. The unique shape made them a shoe in for this list.
The ice crack look of these pots is just perfect for succulents. It looks like they've been cracked by the desert sun.
Pros
Attractive ice crack ceramic design in a range of colors
Excellent drainage with a good sized hole at the bottom
Comes with 12 bamboo saucers
Quite affordable for 12 pots and saucers
Cons
The coasters are too small to catch overflow water
Slightly fragile ceramic material
Plants not included
Glazed inside and out, not ideal air flow for planting succulents.
The charming ice crack ceramic design and appealing colors make these pots a winner. Match colors to enhance the look of your favorite succulents.
The ceramic material proves to be slightly fragile, so it's crucial to handle them with care. Since these pots are glazed inside and out, you'll have to be very careful not to over water.
Aside from these minor issues, we found the Lawei Ice Crack Succulent Pots to be a stylish and practical choice for displaying succulents or small plants. The variety of colors allows mixing and matching differnet succulents, creating a unique arrangement. The added bamboo saucers make for a polished and functional finish, even if they don't catch much water.
Want a small pot with big flair? Cindeer's geometric ceramic pots are a creative and artistic choice for displaying small succulents in any space.
Pros
Unique geometric design on each pot works well with the collection as a whole
Sturdy pots don't tip over easily and hold up well to everyday bumps
Comes with matching bamboo trays
Cons
Tiny tray allows practically no room for drips
Strong statement is a commitment that may not fit some décor styles
Glazed inside and out, reducing air flow
These charming Cindeer small succulent pots are perfect for adding a touch of creativity to our indoor spaces. The geometric designs on each pot are unique, and their intricate patterns make them stand out among typical planters.
They're pricier than other options on this list, but they're much more intricate as well. If you want your succulent garden to say something, this may be a great choice for you.
Do you want your succulents to have an adorable pot to cuddle up in? These Linyona Boho Succulent Pots are perfect for anyone looking for stylish and practical small plant pots.
Pros
Unglazed ceramic has better air flow than other options
Charming highly detailed flower decorations
Unique boho style in 4 different shapes
Good price for four pots with so much detail
Cons
Matte ceramic shows dirt easily
Come with some small irregularities and only one color option
Plant trays don't have enough room for excess water
These unique boho-style designs are just too cute. The flowers have incredible detail. Each pot is unglazed ceramic material, which means better air flow.
The collection may be limited for those seeking more design options. Additionally, while the ceramic material is advantageous, it may not be as durable as solid ceramic pots.
These little pots are both beautiful and subtle, lending a flair anywhere you put them.
Pros
Attractive design with six different styles, each a little different than each other
Durable ceramic material and bamboo plant trays
Decent price for 12 highly detailed pots
Glazed only on the outside, and some only partially glazed, enabling better air flow
Cons
Tiny saucers aren't sufficient for catching extra water
Some customers received broken pots due to packaging
Since there's diversity in the design, you may not like the individual pots you like as much as the picture
These Remerry ceramic succulent pots have colorful, transmutation glaze designs that instantly caught the eye. The six different styles offer a curated, eclectic look.
One concern we had was regarding the packaging. Some customers received broken pots due to insufficient packaging protection. Pots vary in their glaze, so you may not like the ones you get as much as the picture.
In conclusion, these Remerry pots have eye-catching designs, durable ceramic material, and have better airflow than others. Just be aware of the variability in their appearance and potential packaging problems.
Want a consistent look for your succulents? These little pots are as simple and charming as they come.
Pros
Clean look works with just about any decor
Slight flair at the top adds extra surface area for the plants
Polished ceramic is easy to clean
Cons
Glazed in and out, which isn't as good for airflow
Tiny bamboo trays won't catch enough water
Only one color option
The simple yet modern design, coupled with their solid white ceramic construction, makes this a great plant pot for smaller plants. They seem to complement the overall décor effortlessly wherever they are.
The 12-pack of pots comes with bamboo drainage trays. The trays are cute, if too small to catch water after a real watering. They're fine for preventing humidity damage and catching a few drips when the succulent is returned after being watered elsewhere.
It would have been great to have some alternative design options, as the solid white round pots might not cater to everyone's taste.
If you're looking for small, elegant pots for your indoor or outdoor succulent displays, we can certainly recommend the Brajttt Succluent Pots with Bamboo Tray. Just be sure the soil dries thoroughly and be cautious about how much water you use, since they are fully glazed ceramic pots.
ZOUTOG succulent pots are perfect for adding a modern touch to your home. They're well made of quality, evenly glazed ceramic.
Pros
Unique geometric design that makes a statement
High-quality ceramic material with bamboo tray
Little ridge keeps pots in place
Glazed inside and out
Cons
Finish may appear less vibrant than in pictures
No room for drainage on the trays
The patterns don't always match up perfectly
The ZOUTOG succulent pots caught our eye with their unique geometric pattern and modern aesthetic. We loved how the ceramic material felt durable and evenly glazed. A little ridge keeps the pot in place on its tray, which is a very nice touch.
The colors of the pots appeared somewhat more muted than in the pictures. The bamboo trays don't hold enough water for functional watering.
If you're looking for a stylish, modern set of small pots to enhance your home decor, the ZOUTOG succulent pots are a great choice. Just be careful how much water your plants get in these fully glazed pots.
Who would have guessed these brilliant designs were plastic? Plastic isn't our favorite material for planting succulents, but if you want something light and unbreakable, these pots are it.
Pros
Durable, high-quality polypropylene material
Beautiful mandala pattern and design
Bamboo trays line up perfectly with the pots
Cons
Colors may not be as vibrant as shown in photos
Even with the thick plastic, be careful about planting succulents in plastic, especially if they ever get full sun.
May be considered pricey for plastic pots
The high-quality plastic material used in making these pots ensures they are durable and do not fade, peel, or scratch easily. The beautiful mandala patterns on the pots add a colorful and trendy touch, making them perfect for brightening up any room.
The colors on the pots aren't as vibrant as shown in the product images. They still look lovely, but those expecting the exact same colors might be slightly disappointed.
The price may be considered a bit high for plastic pots, but we think the design and functionality make up for it.
We love the texture on these otherwise simple white pots. They fit anywhere, but add more visual interest than you'd expect.
Pros
Sturdy, modern white porcelain material with gorgeous patterns
Variety of shapes fit the needs of succulents well
Shiny surface is easy to clean
Cons
Saucers are too small to catch much water
Porcelain glaze on both sides makes it more difficult to ensure soil dries evenly
No color options
The Drainage Hole Succulent Plant Pots are a wonderful addition to any indoor garden. The six-piece set allows you to play with textures and colors to obtain a balanced and elegant effect.
The unique and creative design of these pots makes them a great addition to the modern home and garden. This succulent pot looks more expensive than it actually is.
While there are some issues with breakage during delivery, most pots arrive in great shape.
FCFKUK 24pcs Small Mini Clay Pots
Just want your succulents to thrive in a clean, pretty environment? These are the pots for you.
Pros
Terra-cotta is the ideal pot material for indoor succulents
The clean white color shows off your succulents
No saucers, so you can choose a way to water your succulents while allowing for runoff
Get 24 pots for the same price as 6 pots in other listings
Cons
Some pots may arrive damaged
Possible discoloration over time, as with all terra cotta
You're on your own when it comes to drainage
These tiny terracotta pots are not only visually appealing but also highly functional. Measuring 2.5 inches in height and diameter, these white pots are ideal homes for your succulent pups.
It doesn't hurt that you get 24 pots for the same price you'd pay for 6 in another listing.
These succulent planter pots are made from carefully selected high-quality clay and fired at a high temperature.
However, we noticed minor issues with these pots, such as the possible arrival of broken or cracked ones. Although the company offers a full refund or replacement, it's worth considering if you're planning to purchase for a time-sensitive event.
Additionally, we noticed that some pots tended to discolor over time, turning a dirty brown color. All terra cotta absorbs water and the minerals in it. Consider using Reverse Osmosis (RO) water if you'd like your pots to stay white.
Overall, FCFKUK Small Mini Clay Pots are an excellent choice for those looking to add charm to their space with tiny succulent pots. They'll enable your smaller succulents to grow big and strong.
These Laerjin Geometric Pattern Succulent Pots are a stylish, modern, affordable option for your succulents.
Pros
Good price for six pots
Elegant geometric design is eyecatching and clean
Fit firmly into the bamboo trays
Cons
Bamboo trays may be prone to mold
Some inconsistencies with fit and size
Wooden saucers might not fit all pots perfectly
These small succulent pots feature an elegant geometric design that adds a touch of modern style to your space.
The pots are made of high-quality ceramic material, which adds a touch of warmth to their appearance. They're very affordable but have a quality look and feel.
Despite their great features, there are some minor issues with these pots. The bamboo trays might be prone to mold, which means you have to be careful when watering your plants. Like most trays for succulent pots, they're too small to allow for overwatering.
Additionally, there may be some inconsistencies in the sizing, with some pots being slightly smaller than others.
Overall, we recommend the Laerjin Geometric Pattern Succulent Pots for individuals looking for stylish, affordable, and practical pots for their small plants. They make great gifts and provide a beautiful addition to any environment.
These adorable little pots are like colorful stones plucked from the desert and made into the perfect home for your succulents.
Pros
Attractive design in 5 different colors
Unglazed bottom allows for sufficient airflow, while the top offers a splash of color
Sturdy shape makes them resistant to being knocked over
Cons
Small opening can make repotting a challenge, especially if your succulents are root bound
No trays included, so you're on your own for watering
Pastel colors aren't to everyone's taste
These lightweight and affordable pots are a beautiful merge of functionality and style. Your succulents will love them as much as you do, since they offer good air circulation.
These flowerpots are a great investment for any plant enthusiast looking to add a pop of color and unique design to their plant collection. They are high-quality, versatile, and come at an affordable price point, making them a must-have for any plant lover.
Remember that repotting can be a challenge with these pots, so don't wait until your succulent is root bound.
Buying Guide
Size of the Pot
Consider the size of the plant you are potting. Only go up an inch or so from the size of the current root ball.
Succulents have shallow root systems, so they do not need deep pots. A pot that is wider than it is deep will allow for proper drainage and air circulation.
Choose a pot with drainage holes to ensure excess water can escape. This will prevent the soil from becoming waterlogged and causing root rot.
Material
The material of the pot plays a crucial role in the health of your succulents. Common materials include ceramic, terracotta, and plastic. Here are some advantages and disadvantages of these materials:
| Material | Advantages | Disadvantages |
| --- | --- | --- |
| Ceramic | Attractive designs, won't discolor | Heavy, fragile, retains moisture |
| Terracotta | Breathable, promotes healthy roots | Breakable, discolors and few design choices |
| Plastic | Lightweight, affordable, won't shatter | Not breathable, doesn't insulate against temerature fluctuations |
Drainage
Proper drainage is vital for succulent health. Ensure that the pots have sufficient drainage holes to allow excess water to escape, preventing overwatering and root rot. If a pot you love lacks drainage holes, you can always drill some yourself, but it's less convenient.
Design and Aesthetics
Small succulent pots come in various designs, colors, shapes, and textures. When choosing a pot, consider its aesthetic appeal, as it will be a part of your indoor or outdoor décor. You might prefer a modern look, classic elegance, or something more whimsical—pick what best complements your personal style and space.
Price and Quality
Lastly, consider your budget and the overall quality of the pots. While it's tempting to buy the cheapest option, it's essential to prioritize quality and durability. Always aim for the best value possible without sacrificing aesthetics, functionality, or your succulents' health.
Related Content You May Find Interesting
Here are some more articles that may be of interest to you if you're shopping for succulent pots.